unfortunately a day in my shoes is not all too interesting, but i thought i would share a little bit about a day in the life of me!
i have always been an early bird and generally start my day around 6:00 in the morning. i try my hardest to eat some breakfast and spend a little time reading the newest blog posts of the lovelies that i follow :) i get ready for a day at work and spend some time with my cute little animals and matthew of course and then off to work i go.
matthew and i both work for the same insurance company...we used to actually work in the same department (no this is not how we met!!) but he is now in a different area. my work is not all that interesting...i am in the marketing and sales department and that's about all i will say because there is no need to bore you :), but i absolutely love the people i work with so it makes it all worth while. my good friend paul likes to take pictures on his cell phone of random things so i modeled for him.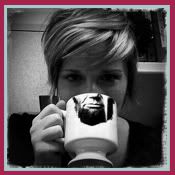 he and his girlfriend (also my bff) got matthew and i these abe lincoln mugs...aren't they fab?
after work i go home and matthew and i eat dinner...he loves loves loves to cook so he always has it ready when i come home, how amazing is this? we take some time to catch up on things and talk about our day while our lovely little pets watch us from a distance hoping something will fall on the ground :)
some nights i have class (i am currently in school for graphic design) and on tuesday nights i teach a hip hop class (check out the hot pink and neon blue shoes up top...they are the best street dancing shoes ever)!! on the nights that i am off, i work on some design work for Corey a local photographer, create window display decorations for stella, watch my favorite tv shows with matthew and catch up on some reading. We like to take our furry family out for walks too, but with the cold weather coming our way they are not all that interested!
well i warned you...a day in my shoes is not all that interesting, but regardless i am happy and am taking the neccessary steps to get to exactly where i want to be. once i am there i will be sure to share another day in my shoes :)
what is a day in your shoes like? i'd love to know!!
have a magical day ♥
xo lindsay