with the holidays quickly approaching it is that time of year for lovely window displays to start popping up. when i was little i remember taking the train with my family to chicago just to see what the department stores had created for the year and i always thought to myself how on earth did they do that?
recently i have fallen head over heels in love with the creativity and inspiration displayed at anthropologie and free people. if you don't have either of these shops in your hometown there are plenty of pictures out there on the web to swoon over! i absolutely adore their window and store displays and wondered what do i have to do to get that job?!? after a little research i figured out all of the necessary requirements:
* highly creative -
check
(at least i hope so)
* thorough understanding of the anthropologie/free people point of view -
check
* a design background -
double check
(still plugging away at that graphic design degree)
* knowledge of various textiles and materials as well as familiarity with power tools, basic construction techniques, and installation -
very little experience
so what did i do next? contacted a fabulous shop in town by the name of
stella
and inquired about a display coordinator internship opportunity in order to expand my knowledge of different textiles and materials, installation/construction, and the use of power tools (oh my!!!). lucky for me they welcomed my ideas with open arms and provided me with the opportunity to use their beautiful front window as my canvas.
the inspiration
with fall here and winter just around the corner, i wanted to create a story that was timeless and unique to the season. i also took into consideration my surroundings and wanted to convey a message that made sense for stella. after taking some time to brainstorm and develop a simple sketch i had my vision and title for my very first display - "the author's corner"
ideas included a vintage typewriter, tea dyed paper, torn book pages, fall colored ribbon, gold painted sticks, antique chandeliers and so much more. here is a sneak peek of one of the first pictures i took before the display started to go up!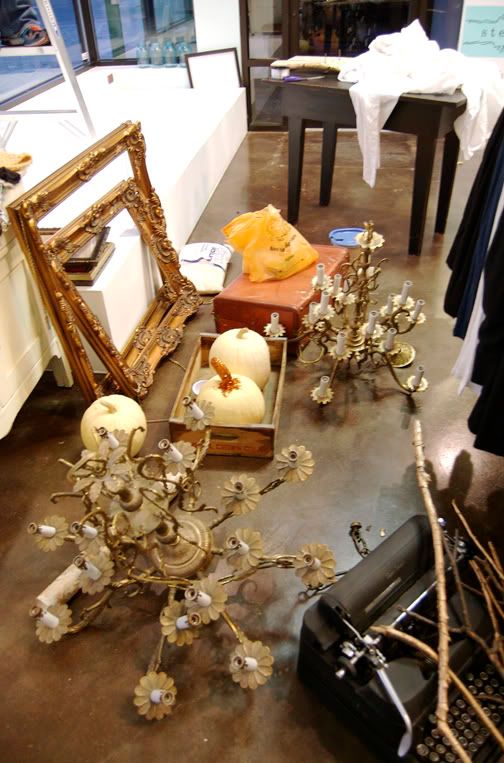 stay tuned for more images to come!