1. a. The act or process of motivating.
b. The state of being motivated.
2. Something that motivates; an inducement or incentive.
_________________________________

i have realized over the years that nothing comes easy...life requires some motivation and in the end when you add this to the mix, it really is worth it! this is why motivation is a necessary item to pack in my suitcase for life.
there are so many situations that cross our life path, many that we can not control. sometimes these things start to wear on us and begin to bring us down...but you can stop this! i find with a little motivation anything is possible. my opportunities are endless...it's time to move mountains.
what's in your suitcase for life?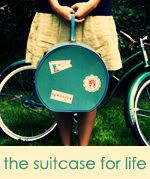 click here
to see the other items in my suitcase for life
xoxo - lindsay